Japan Relief Campaign featured on CBC News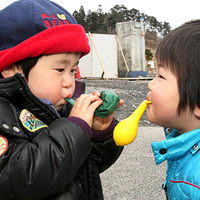 The Tiger Jeet Singh's Japan Relief Campaign which kicks off officially today with an assembly at Tiger Jeet Singh Public School, was featured yesterday on CBC News, both on television and on the website of our national broadcaster.
Wrist bands are now available for purchase online. Proceeds from the sale of wrist bands will go towards the Japan Relief Campaign in aid of the suffering of the displaced children from the earthquake and tsunami in Japan. Your contribution will provide emergency supplies and relief required to help those young lives in need.
Click here to view the video clip from CBC News.
Below is the article as written by Steven D'Souza of CBC News:
Wrestling legend aims to raise thousands for Japanese kids

Wristbands will connect kids in Canada with kids in Japan

A fundraising effort for victims of the Japanese earthquake and tsunami organized by former pro wrestler Tiger Jeet Singh won't officially launch until Wednesday afternoon, but it has already raised $25,000.

A legend in Japanese wrestling circles, Singh spent more than 40 years wrestling in Japan.

Having made lifelong friends there, he knew intimately many of the areas devastated by the raging waters of the tsunami. Seeing the pictures on the news, he knew he had to help.

"It doesn't matter how big you are, when you see something like that you feel like crying, please God, what can we do for those people?" he said from his home in Milton.

Through his Tiger Jeet Singh Foundation, he's teamed up with the Halton District School Board to raise money for children in Japan. Selling red and white wristbands at five dollars each, they've already sold 5,000, with another 10,000 on order.

While the scope of the rebuilding effort is enormous, Singh knows exactly whom he wants to help. Save the Children estimated nearly 100,000 children in Japan have been displaced by the tsunami.

"I remember my grandson got sick, he was in Sick Children's Hospital, the whole family, it was like a dark cloud on the family you know … one child you know, how many children are there [in Japan] now? They're just like you're own children too."

Helping him out is his son, Tiger Jr., who wrestled briefly in the WWE as Tiger Ali Singh.

Along with the wristbands, they've created a website where people can buy the wristbands as well as send messages to students in Japan.

"All the money that is raised from the proceeds of the selling of the wristbands will go directly to the impacted school boards and the children in that part of the country," Singh Jr. said.

We Pray for Japan

The wristbands are red and white with the words "Kidz 4 Kidz United We Rise" on one side in English. On the other side "We Pray for Japan" is written in Japanese.

They will be sold at schools throughout Halton Region, including the Milton school that bears his name — Tiger Jeet Singh Elementary. That's where the official launch rally will be held Wednesday.

The school board said it's already received interest from other boards and has been in contact with the Japanese consulate about how to best get the money to where it's needed most

"That's the challenge. We're really keen to have some direct and immediate impact and we know with the devastation there they're having difficulty reopening the schools," said Yaw Obeng, Superintendent with the Halton District School Board.

In the immediate aftermath of the tsunami, many students were eager to find a way to help, Obeng said. The wristbands are a perfect way to organize and focus the many different fundraising efforts going on across various schools, he said.

"This is another great teachable moment for our kids. We know that we're preparing our kids to work and live in a global society so when they see something happening outside their own community and they can make those connections its a great opportunity."

The elder Singh was just in Japan in December visiting school children, and gets choked up when speaking about how their lives have changed forever.

"I was playing with them in the gym you know and when you think of those kind of things you get really emotional you know, we're all human beings"

He hopes the fundraiser will go national and that in a few months from now he and his son can visit Japan again, this time bringing with them the money they've raised.

"We are so grateful to God for giving us this opportunity to help all the children and all the people who are affected by this tsunami. We want to do so much," Singh says.