Tigers Awarded Queen's Diamond Jubilee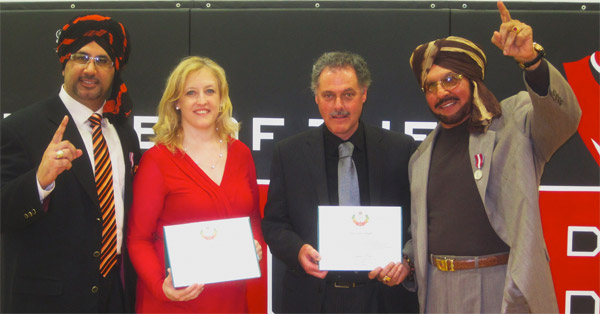 Friday, May 4th, on behalf of the Governor General, His Excellency the Right Honourable David Johnston, Lisa Raitt presented The Queen Elizabeth II Diamond Jubilee Medal to local residents Tiger Jeet Singh and his son Tiger Ali Singh.
(PHOTO: Lisa Raitt stands with Rick Nodwell, Principal of Tiger Jeet Singh Public School, Tiger Jeet Singh and Tiger Ali Singh as they accept the Queen's Diamond Jubilee Medal for philanthropy and charitable services)
"The Queen Elizabeth II Diamond Jubilee Medal is a tangible way for Canada to honour Her Majesty for her service to this country, while at the same time, celebrate the significant contributions and achievements by Canadians," said Lisa Raitt, Member of Parliament for Halton. "From their immense accomplishments in sport to their vast philanthropic activities, the Tigers embody the characteristics that the spirit of this medal is designed to reward."
The presentation was made at a school assembly in front of one thousand students from grades JK to grade 8 hosted by Tiger Jeet Singh Public School, an elementary school in Milton that was named after the famous wrestler upon opening in 2009.
"Standing in a school of your namesake, in front of a room of children accepting the Queen's Diamond Jubilee Medal was such an overwhelming experience," said Tiger Jeet Singh. "It is my hope that we inspire these children and help them realize they can do anything they set out to achieve."
The Queen's Diamond Jubilee Medal was commissioned by the Canadian Government as a way to mark the 2012 celebrations of the 60th anniversary of Her Majesty Queen Elizabeth II's accession to the Throne as Queen of Canada and to acknowledge noteworthy citizens for their service. The Tigers are the only father and son pairing in Canada to be honoured with this award.
"Our work is our way of giving back to a community that has given us so much," said Tiger Ali Singh. "Being able to contribute is reward enough, but, of course, we are truly humbled to be honoured to be recognized in this fashion."
For more information about the Tiger Jeet Singh Foundation's community initiatives, including their 4th edition of TigerFest taking place at Brampton's Canada Day Celebrations on July 1st, visit their web site www.tigerjeetsinghfoundation.com.