Tiger named among top 25 Canadian immigrants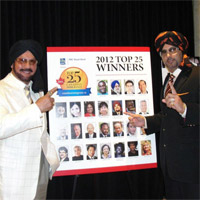 The accolades keep coming for Tiger Jeet Singh. Just a few weeks after he and son Tiger Ali Singh received the Queen's Diamond Jubilee Medal, the elder Tiger has been honoured yet again.
This time it's his fellow Canadians who recognized the retired pro wrestler and philanthropist, through online voting for the fourth annual Top 25 Canadian Immigrants.
The awards program — which drew tens of thousands of Canadian voters this time around — is a joint venture between Canadian Immigrant magazine and RBC.
Honoured for his tireless work with the foundation that bears his name — and raises awareness and funding to help build hospitals and schools in developing countries — Tiger Sr. made the final cut among an initial field of more than 550 nominees that was narrowed down to 75 finalists. Hip-hop artist K'naan, MP Olivia Chow and Olympic wrestling legend Daniel Igali were among other winners this year.
"There is no shortage of immigrants deserving to be recognized for their contributions to Canada. The calibre of our 25 winners attests to that," said Canadian Immigrant editor Margaret Jetelina. "From professional athletes, artists and politicians to entrepreneurs, philanthropists and community activists, the Top 25 Canadian Immigrants of 2012 are inspiring role models not only for all immigrants, but also for everyone born in Canada."
"I am deeply humbled and grateful to all my fellow Canadians that voted for me to receive this award," said Tiger Jeet Singh. "With God's grace, I will continue to strive to be a positive role model for our children and hope to inspire them to become anything they want to in this wonderful country of ours."
The recipients were announced today, with ceremonies to be held in their honour in both Toronto and Vancouver.
A wrestling legend in Japan — where he spent most of his career — Tiger Sr. had a school named after him in Milton in 2010, and has supported a number of local groups through his foundation. Tiger's annual TigerFest is set to take place again this year as part of Brampton's Canada Day Celebration's on Sunday, July 1.