MIRACLE ON MAIN A HUGE SUCCESS RAISING $250K FOR CHARITY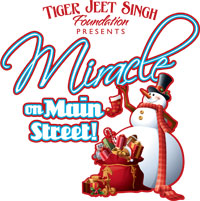 In support of McMaster Children's Hospital, Halton Women's Place, Salvation Army and Hospital for Sick Children

Milton, ON – Wrestling legend Tiger Jeet Singh, his son wrestling superstar Tiger Ali Singh and their dear friend Troy Newton spearheaded the Tiger Jeet Singh Foundation's efforts in raising awareness and a record setting $250,000 in donations made up from food, toys, life essential products, and corporate sponsorships as a result of Miracle on Main Street in Milton and Hamilton; more than doubling the amount raised from last year's event.
Tiger Jeet Singh Foundation would like to THANK YOU!
The first event in Milton on December 17th brought in approximately $215,000 in donations. The spirit of giving was captured live by Jennifer Valentyne and Citytv's Breakfast Television. The entire experience from horse and carriage rides, food, amusement rides, reindeer and so much more was entirely FREE for everyone to enjoy.
Over a thousand supporters attended bright and early from 6:00 a.m. to 9:00 a.m. from Milton and across neighboring municipalities. Among the supporters were such dignitaries as Lisa Raitt, Halton MP & Federal Minister of Labour, Ted Chudleigh, Halton MPP and His Worship Milton Mayor Gord Krantz. Canada's most famous hockey dad Walter Gretzky was in attendance, along with Garrett Billings of the Toronto Rock and even the Stanley Cup!
Carols were sung by Milton Choristers while performances were provided by the Salvation Army Brass Quartet, recording artist Prita Chhabra, Bunny Panesar, Jon Abrams, Dhol Circle's Rana Bassi & Sukha Bhamra, House of Bhangra Dance Academy, Kelly Macintyre, Rock this Way School of Rock, Roselle Doyle, Tyler Fergus and the event DJ Mark Stanley.
Extravagant displays were put up by community partners Halton Regional Police Services and the Milton Fire Department.
Hundreds of children attended from neighboring schools including Milton District Secondary School, Craig Kielburger Secondary School, St. Peter's Catholic School and Tiger Jeet Singh Public School.
A major highlight of the event captured live on Breakfast Television was the presentation of the Queen's Diamond Jubilee to Troy Newton from Federal Minister of Labour Lisa Raitt in recognition for his community service.
Two days later on December 19th, the Tiger Jeet Singh Foundation had their second Miracle on Main Street charity event at McMaster Children's Hospital in Hamilton. The lobby was transformed into a holiday wonderland. In attendance showing their support were Toronto Maple Leaf Alumni Ric Nattress, Peter Ing and Tom Fergus along with Hamilton Ti-Cats Ryan Hinds and Kevin Scott.
The lobby was packed full of spectators and patients clamored to get their presents and have their pictures taken with the Tigers, Alumni and Ti-Cats. Wonderful performances were put on by House of Bhangra Dance Academy and Roselle Doyle figuring skating on her rollerblades! A figure of approximately $35,000 in donations of toys and life essential products was raised by the Tiger Foundation through the support of area businesses.
"We are so grateful for the overwhelming support of our family, friends, Foundation committee members, Mayor Krantz and the great staff at the Town of Milton." says Tiger Jeet Singh Jr., President of Tiger Jeet Singh Foundation. "I am also so appreciative for the generous hospitality and support shown to us from Jennifer Laughton and her amazing staff at McMaster Children's Hospital to host our second Miracle on Main Street, which allowed us the opportunity to deliver presents and meet with the young patients that will have to spend the holidays in the hospital."
"I'm very thankful for the tireless efforts of my staff at Troy's Diner, performers and volunteers," says Troy Newton, Director of Tiger Jeet Singh Foundation. "On a personal note I'm still speechless in receiving the Queen's Diamond Jubilee. I will cherish this memory for the rest my life!"
"We would not have been able to provide a free event if it were not for the support from our partners, media partners and sponsors," says Tiger Jeet Singh, Chairman of Tiger Jeet Singh Foundation, "which were led this year by presenting sponsors Unilever, Scotiabank, Best Buy Mobile Bramalea, Gunding & Hans LLP, TigersChallenge.ca and TeamTiger Century 21 Heritage Group."
For more information, pictures & videos from the events please visit www.MiracleOnMain.ca

FOR MORE INFORMATION:
Raoul Juneja, PR Manager
Tiger Jeet Singh Foundation
E: holla@lyricalknockout.com
T: 416-988-5363