Tiger Jeet Singh Foundation Presents 5th Annual 'MIRACLE ON MAIN STREET'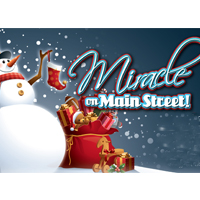 In support of McMaster Children's Hospital, Halton Women's Place, Salvation Army and Hospital for Sick Children
Milton, ON – The Tiger Jeet Singh Foundation is now making plans to present the 5th annual "Miracle on Main Street" charity event. The donations raised each year go towards the purchase of toys, food and life essentials for families experiencing poverty via The Salvation Army, Halton Women's Shelter and children suffering from sickness at the Hospital for Sick Children and McMaster Children's Hospital. To date the Foundation has raised half a million dollars in combined sponsorships and donations.
Read more…
"The objective of Miracle on Main Street is to promote the spirit of giving among all faiths," says Tiger Jeet Singh Jr., President of Tiger Jeet Singh Foundation. "No matter what religion, colour or race you are, sickness and poverty do not discriminate, and neither should the spirit of giving."
Miracle on Main will take place on Monday, December 9 from 6 a.m. to 9 a.m. at Troy's Diner, 295 Main Street East, Milton. This portion of Main Street will be closed off to make may way for amusement rides, reindeer, entertainment and extravagant displays set up by the Halton Regional Police Services and Milton's Fire Department. The event is FREE for everyone and all that is asked is for a donation of a new unwrapped toy.
Carols will be sung, autographs and pictures will be taken with wrestling's living legend Tiger Jeet Singh, Canada's most famous hockey dad Walter Gretzky, former WWE superstar Tiger Ali Singh, Toronto Argos Mike O'Shea, Maple Leaf Alumni Ric Natress & Tom Fergus, NHL Alumni Dennis Maruk, Toronto Rock Garrett Billings, Ti-Cats Mike Filer (#68 OL) and Matt Bucknor (#26 DB). Still more names will be announced.
Please visit www.MiracleOnMain.ca for more information or to make an online charitable donation.
WHAT: Miracle on Main Street
DATE AND TIME: Monday, December 9, 2013 from 6:00 AM to 9:00 AM
VENUE LOCATION: Troy's Diner, 295 Main Street, Milton ON L9T 1P1