Great turnout for Miracle on Main Street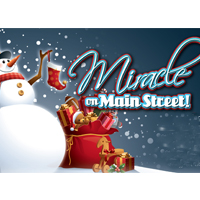 Milton, ON – Sports celebrities, train rides and another grand show of generosity. All were part of the annual Miracle on Main Street, organized once again by the Tiger Jeet Singh Foundation.
This year's fundraiser which took place on Monday, December 9th, collected more than $200,000 in toys, cash, non-perishable food and life essential products that will be distributed to the Salvation Army, Halton Women's Place and patients at the Toronto Hospital for Sick Children and McMaster Children's Hospital in Hamilton.
Wrestling legend Tiger Jeet Singh, his son wrestling superstar Tiger Ali Singh and their dear friend Troy Newton spearheaded the foundation's effort in raising awareness for the charities it supports.
The entire experience from food, entertainment, amusement rides, a mini CN Rail train and so much more was entirely FREE for everyone to enjoy with a donation of a new unwrapped toy.
Over a thousand supporters attended bright and early between 6:00 a.m. to 9:00 a.m. from Milton and across neighboring municipalities. Among the supporters in attendance were dignitaries Mayor of Milton Gord Krantz, Minister of Transport Lisa Raitt, Ontario Progressive Conservative Leader Tim Hudak, Halton MPP Ted Chudleigh, Prince Edward Hastlings MPP Todd Smith, Chief of Halton Regional Police Stephen Tanner along with his Deputy Chief Andrew Fletcher and constables,
Sport celebrities from the CFL included new head coach for the Winnipeg Blue Bombers Mike O'Shea, Toronto Argo's Andrew Jones, Hamilton Ti-Cats Mike Filer with Matt Bucknor, Toronto Rock Garrett Billings, NHL Alumni Tom Fergus, Ric Natress and Dennis Maruk. Also making a return visit was Canada's most famous hockey dad Walter Gretzky.
Carols were sung by Milton Choristers while performances were provided by local artists Salvation Army Brass Quartet, Jessica Lockwood, Sheeza Sabir, Rock This Way – Gavin McLeod Hawthorne, Jon Abrams with Nish Durriappah, Elvira Hopper with Darryl Joseph Dennie aka Heart & Soul and the event DJ Mark Stanley.
Extravagant displays were put up by community partners Halton Regional Police Services and the Milton Fire Department.
Hundreds of children attended from neighboring schools including Tiger Jeet Singh Public School, Milton District Secondary School, Craig Kielburger Secondary School, St. Peter's Catholic School, PL Robertson Public School and several others.
"The event is all about having fun and bringing people of different faiths together as one over the holidays and I believe this was accomplished at Miracle on Main", said Tiger Jeet Singh Jr., President of Tiger Jeet Singh Foundation. "Sickness and poverty do not discriminate; neither should the spirit of giving."
We are so grateful for the overwhelming support of our family, friends, committee members, performers and volunteers", said Troy Newton, Director of Tiger Jeet Singh Foundation. "This event is about giving and we are so thankful again for the community of Milton and beyond for continually supporting this great cause."
"We would not have been able to provide a free event if it were not for the support of our wonderful sponsors," said Tiger Jeet Singh, Chairman of Tiger Jeet Singh Foundation, "which were led this year by presenting sponsors Scotiabank, Gunding & Hans LLP, TeamTiger Century 21 Heritage Group and Asian Television Network."
Visit www.MiracleOnMain.ca for additional information, pictures & videos from the event.