TEEING OFF a SOLD OUT MIRACLE!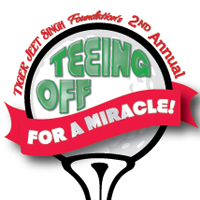 MILTON, ON, Canada – The Tiger Jeet Singh Foundation's 2nd Annual 'TEEING OFF for a MIRACLE' golf tournament was a tremendous success raising awareness and thousands of dollars for charity!
Read More
Photos
Sponsors

The event was in support of the Foundation's upcoming 6th annual 'Miracle on Main Street' winter charity event scheduled to take place on December 15th, 2014. Proceeds from the golf tournament will go towards the purchase of toys, food and life essentials for families experiencing poverty via the Salvation Army, Halton Women's Shelter and children suffering from sickness at SickKids and McMaster Children's Hospital.
"I would like to thank everyone from the players and sponsors that contributed towards the event being SOLD OUT!", says Tiger Jeet Singh, chairman of Tiger Jeet Singh Foundation. "Words escape me at the moment to properly express my true feelings on how this was all pulled off in only three weeks of planning….a true testament to the wonderful team of volunteers we have and the staff at Granite Ridge Golf Club."
The Tigers were delighted by the impromptu visit by Brampton Mayoral candidate Linda Jeffrey, who said "I've come to show my support and personally thank the Tiger Jeet Singh Foundation for selling out their 2nd annual Teeing off for a Miracle charity event and raising money for a great cause. Great night!"
"The objective of Miracle on Main Street is to promote the spirit of giving among all faiths," says Tiger Jeet Singh Jr., president of Tiger Jeet Singh Foundation. "Sickness and poverty do not discriminate; neither should the spirit of giving."
This year's event was presented by Milton Car Audio Plus Home, Team Tiger Realty Group and Got You Looking! – Professional Virtual Tour Services.
For more information contact:
William (Bill) Eadie
PR Manager, Public Relations & Digital Communications
Tiger Jeet Singh Foundation
E: info@tigerjeetsinghfoundation.com