Halton Regional Police & Tiger Jeet Singh Foundation Join Forces Again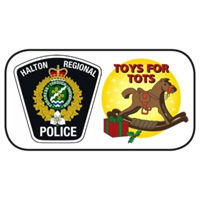 In support of Toys for Tots & Miracle on Main Street
Burlington, ON – The Halton Regional Police will launch their annual Toys for Tots holiday fundraiser on Friday, November 13 at 10:30 a.m. in front of the Canadian Tire store located at 777 Guelph, Line, Burlington; and will also announce their continued partnership with the Tiger Jeet Singh Foundation. Wrestling legends and humanitarians Tiger Jeet Singh and his son Tiger Ali Singh will be on hand to lend their support as special celebrity guests.
"It will mark a milestone in our Foundation's continuing effort to forge relationships with community leaders such as Halton Regional Police Services," says Tiger Jeet Singh Jr, President of the Tiger Jeet Singh Foundation. "We are humbled going into our fourth season of partnership with Halton Police Services and look forward towards developing a strong cross promotional campaign that will benefit both fundraising efforts."
Toys for Tots initial objective, remains the hallmark of the program today, which is to bring the joy of Christmas to needy children. Its goal is to deliver a message of hope that will build self-esteem and motivate children to grow into responsible, productive, patriotic citizens and community leaders.
Halton Regional Police Chief Stephen Tanner remarked that, "the Service is delighted to have been invited to participate with the Tiger Jeet Singh Foundation and we'll have a significant presence at their Miracle on Main Street event on December 14 in Milton."
For more information on Miracle on Main Street, please visit www.MiracleOnMain.ca
For more information contact:
William (Bill) Eadie
PR Manager, Public Relations & Digital Communications
Tiger Jeet Singh Foundation
E: info@tigerjeetsinghfoundation.com