Tigers Huge Hit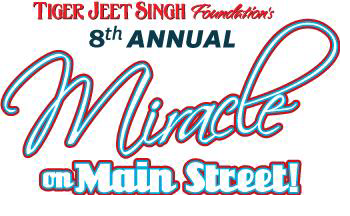 Milton, ON – The Tigers have been very busy attending eight school assemblies throughout Milton.
"The Tiger Jeet Singh Foundation will donate $15,000 to four elementary and two high schools", says Tiger Jeet Singh Jr., President of Tiger Jeet Singh Foundation. "Each school is a unique community of its own, with individual concerns that are not funded by the different levels of government. I sat down with each school principal and asked for their wish list. Some of the replies totally shocked me when it was addressed that mental health was an issue, along with breakfast programs and literacy. The schools were selected because they are supporting this year's Miracle on Main Street toy drive charity event through organizing their own school toy drive and delivering the collection to the event during the early morning on Monday, December 12th. This is our way of saying thank you."
This year's recipients of the donations will include Tiger Jeet Singh Elementary School, Irma Coulson Elementary School, Bruce Trail Elementary School, Hawthorne Elementary School, Craig Kielburger Secondary School and Milton District High School.
Please visit www.MiracleOnMain.ca for more event details or log onto http://tigerjeetsinghfoundation.com/donate/ to make an online charitable donation.
For more information contact:
Victoria Pearson
Executive Assistant to Tiger Jeet Singh Jr.
Tiger Jeet Singh Foundation
E: Victoria.Pearson@tjsf.ca