Overwhelming Success at Miracle on Main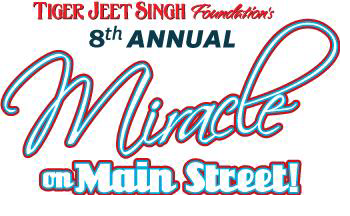 Milton, ON – The 'Miracle on Main' tour which spanned over two months culminated last night at a private movie screening at the headquarters of IMAX. IMAX sponsored the Tiger Jeet Singh Foundation, who invited 200 of its guests made up from patients at McMaster Children's Hospital, families from Halton Women's Place and some well deserving students from local area public schools.
Read More…
Thank You

Photo Gallery
Video Gallery

The 8th annual Miracle on Main was another resounding success having raised over $200,000 made up from a combination of sponsorships and donations, during the early morning hours this past Monday, December 12, on a closed off portion of Main Street in front of Troy's Diner in Milton. The festivities started with the Tiger Jeet Singh Foundation donating $15,000 to four local elementary schools (Tiger Jeet Singh, Hawthorne Village, Irma Coulson & Bruce Trail) and two high schools (Craig Kielburger and Milton District) in support of mental health, literacy, breakfast programs and inclusive classrooms.
People would pass the barriers blocking off Main St and entered a dream world full of Christmas cheer. Councilor Mike Cluett has volunteered at the event since it began, and again served as its emcee. "It's the magic of the day. It's the fact we're all giving back to people who don't have what we have," Cluett said. "Leading up to today, Tiger Jr. attended eight separate school assemblies delivering the message of peace and how diversity makes us stronger as a community."
Miracle on Main Street is a charity event organized by the Tiger Jeet Singh Foundation as a fundraiser for Halton Women's Place, Salvation Army, McMaster Children's Hospital, Hospital for Sick Children and Halton Learning Foundation.
"A simple gesture can bring so much happiness and it's these moments that fill us with joy and touch our hearts that we cherish the most! Thank you to everyone that helped by donating a toy or volunteering your time", said Tiger Jeet Singh Jr., President of Tiger Jeet Singh Foundation. "Sickness and poverty do not discriminate; neither should the spirit of giving."
Carols were sung by Milton Choristers and performances were provided by Salvation Army, Jojo & the Chintos, while inside Troy's Diner patrons were entertained by Rob Hewlett. DJ Mark Stanley was kept on his toes, as this year's new addition of including performances from local area schools, was a tremendous hit with the crowd. This year's surprise special guest Deadmau5 helped start the festivities by introducing the first act from Irma Coulson junior choir, who were followed up Tiger Jeet Singh dance club, Hawthorne Music Maniacs and CK High School Neon.
Extravagant displays were set up again by foundation partner Halton Regional Police Services and the Milton Fire Department. Jennifer Valentyne and Milton Councilor Mike Cluett were recognized as being this year's Miracle on Main Honorary Chairperson for their tireless community service and charity work.
Rounding up the guest list included Tiger Jeet Singh, Tiger Ali Singh, Deadmau5, Milton Mayor Gord Krantz, Milton MP Lisa Raitt, Ontario PC Party Leader Patrick Brown, Halton Region Police Chief Stephen Tanner, Milton Councilors Rick DiLorenzo, Colin Best, Robert Duvall, Mike Cluett, Carm Bozzo from Halton Women's Place, Steve & Leslie Wiseman from Salvation Army, Donna Danielli from Halton District School Board, Jennifer Valentyne and #67 Peter Dyakowski of the Hamilton Tiger Cats.
Two days later, on Wednesday, December 14, a second 'Miracle on Main' was put on at McMaster Children's Hospital, as it was an opportunity for the Tigers and their team to bring a little Christmas cheer to children that must stay in the hospital over the holidays. Accompanying the Tigers were Maple Leaf Alumni Ric Natress and Peter Ing.
"We were absolutely thrilled to host Miracle on Main Street at McMaster Children's Hospital," says Jennifer Laughton, VP Development at McMaster Children's Hospital. "The Tiger Jeet Singh Foundation are wonderful partners and brought so much joy and spirit of the holiday season to the children that have to remain in the hospital over the holidays due to illness. We can't thank the Tigers enough for choosing to support children and our hospital in this very special way."
"We are so thankful for the support of our wonderful sponsors," said Tiger Jeet Singh, Chairman of Tiger Jeet Singh Foundation, "which were led this year by presenting sponsor Team Tiger Century 21 Heritage Group along with CN, Scotabank, CONXCORP, Canadian Tire (Burlington) and Gunding & Hans LLP."
Visit www.MiracleOnMain.ca for more event details or log onto http://tigerjeetsinghfoundation.com/donate/ to make an online charitable donation.
For more information contact:
Victoria Pearson
Executive Assistant to Tiger Jeet Singh Jr.
Tiger Jeet Singh Foundation
E: Victoria.Pearson@tjsf.ca