Miracle On Main At Hawthorne Village Public School Media Release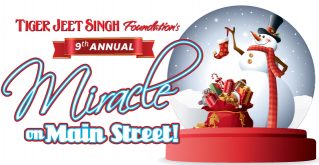 Official Launch for 'MIRACLE ON MAIN STREET' At Hawthorne Village Public School
In support of McMaster Children's Hospital, Halton Women's Place, Salvation Army, Halton Learning Foundation & Hospital for Sick Children
Milton, ON – Preparations are underway to hold the official launch for this year's 'Miracle on Main Street' at Hawthorne Village Public School in front of its one thousand students. Tiger Jeet Singh Jr., President of Tiger Jeet Singh Foundation (TJSF), will donate $2,000 in support of the school's inclusive classroom initiative, as well as promoting the message of there being a strength in diversity and creating inclusiveness.
Since 2015, TJSF has donated $30,000 to local schools in Milton to support initiatives such as inclusive classrooms, literacy, breakfast programs and mental health via the Halton Learning Foundation. TJSF will donate to public schools at this year's Miracle on Main Street event, raising the total closer to $50,000.
Miracle on Main Street is an annual toy drive charity event promoting the message of 'sickness and poverty don't discriminate; neither should the spirit of giving'. The 9th annual Miracle on Main will take place on Monday, December 11, 2017. The donations raised each year go towards the purchase of toys, food and life essentials for families experiencing poverty and injustice via The Salvation Army and Halton Women's Place; toys for children suffering from illness at SickKids and McMaster Children's Hospital. Since 2009, Miracle on Main Street has raised $2 million worth of donations and sponsorships.
WHAT: Official Launch for 'Miracle on Main Street'
www.MiracleOnMain.ca
DATE AND TIME: Thursday, December 23, 2017 @ 3:00 PM
MEDIA LOCATION: Hawthorne Village Public School, 850 Bennett Blvd, Milton ON