About the Tiger Jeet Singh Foundation
---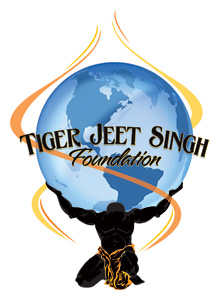 After many years of travel throughout the world, both Tiger Jeet Singh and Tiger Jeet Singh Jr. have witnessed the impact of suffering and sadness faced by their fellow man. Knowing they are fortunate enough to make a difference, the Tiger Jeet Singh Foundation was realized.
The primary objective of the Tiger Jeet Singh Foundation is to raise awareness and funding that is so desperately needed to support hospitals and public schools, where government funding currently falls short. Through a series of high profile community events in their home town of Milton and around the globe, the Tiger Jeet Singh Foundation raises proceeds and distributes to various charities and schools they work with.
Some of the charities that have benefitted from a relationship with the Tiger Jeet Singh Foundation include:
Hospital for Sick Children (Toronto), Milton District Hospital Foundation, Canadian Cancer Society, Troy's Toy Drive, Salvation Army, "Kopz 4 Kidz" with Halton Regional Police Services, Halton Women's Place, Milton District Hospital Auxiliary, McMaster Children's Hospital (Hamilton), Halton Learning Foundation and TigerFest.
The Tiger Jeet Singh Foundation is a Canadian registered charity.
Bios
---
Tiger Jeet Singh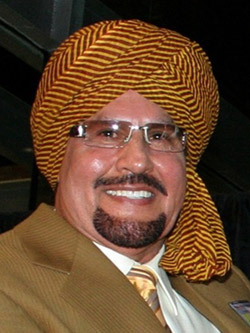 A world famous wrestling ambassador, humanitarian and philanthropist, Tiger Jeet Singh appreciates and recognizes the fact that he has been tremendously blessed and for this reason alone, he was able to surpass the childhood dream he once set for himself as a small boy growing up in Ludhiana, Punjab, India.
Tiger has now set another goal for himself and that is to bring joy and opportunity to the youth around the world. Along with his son Tiger Jr, Tiger has been promoting his anti-drug message to thousands of parents and children throughout the world and about the importance of staying in school, staying away from drugs and staying tiger-fit.
Tiger Jeet Singh's full bio, including international achievements and wrestling titles
Tiger Jeet Singh Jr.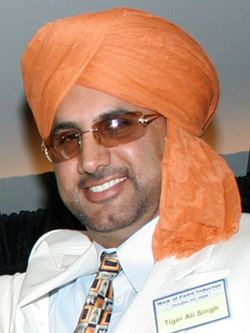 Tiger was a successful high school basketball player, even attracting the attention of some of the top ranked colleges in the United States. However, at the age of 18 years old, Tiger decided to follow in his father's footsteps after returning back from his first trip to Japan where he witnessed firsthand, his father's iconic stature in the country of the rising sun.
In a sign of showing respect towards his two greatest sport hero's, Tiger was blessed and accepted the honour presented to him by both wrestling great Tiger Jeet Singh and boxing legend Mohammad Ali to carry on both legacies by incorporating their names in forming the professional stage name of 'Tiger Ali Singh'.
On December 2001, Tiger slipped and fell unconscious during an outdoor wrestling match in Puerto Rico during a rain storm. He was later diagnosed with having suffered his third concession within a nine month period.
Tiger is back with a bang! Tiger made a triumphant return to the ring on November 20, 2008 wrestling in Tokyo, Japan for one of Japan's most formidable organization's Hustle Entertainment.
Tiger Ali Singh's full bio including international achievements and wrestling titles