Troy's Toy Drive 2010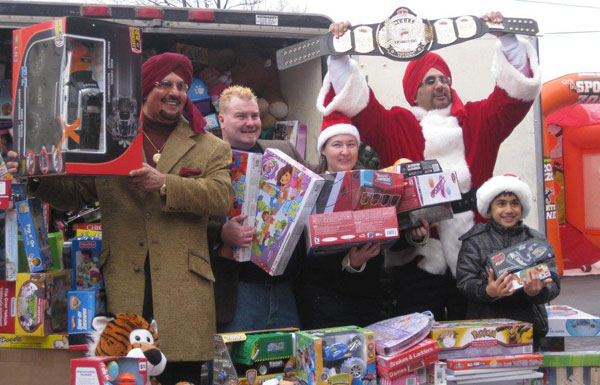 On December 23, 2010 Troy Newton, wrestling legend Tiger Jeet Singh and his son former WWE Superstar Tiger Ali Singh spearheaded the Tiger Jeet Singh Foundation's efforts in raising over a record setting $60,000 in food and toys as a result of Troy's Toy Drive 2010, doubling the $30,000 raised last year.
Canada's most famous hockey dad Walter Gretzky, hockey legend Johnny Bower along with Mayor Gord Krantz and Halton MPP Ted Chudleigh were on hand to lend support at Troy's Diner. Troy's sister, Crystal and their staff overlooked the festivities, while the general public came out in droves and donated an overwhelming number of toys and food.
"If it was not for the Tigers, my sister and business partner Crystal and team this would not be possible," says Troy Newton.
"I thank my buddy Troy for asking my Father and I about one year ago to team up in organizing the Toy Drive and WrestleFest events, because it gives us the opportunity to bring people of different cultures and religions together for the greater good of humanity and give back to noble charities," says Tiger Ali Singh.