Troy's Toy Drive 2011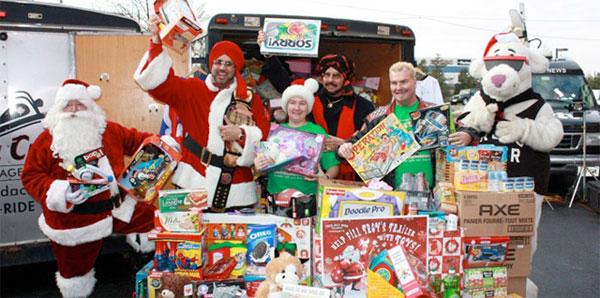 Wrestling legend Tiger Jeet Singh, his son wrestling superstar Tiger Ali Singh, and their dear friends Troy Newton and Crystal Newton, spearheaded The Tiger Jeet Singh Foundation's efforts in raising over a record setting $100,000 worth in donations of food, toys and corporate sponsorships as a result of Troy's Toy Drive 2011, doubling the amount raised from the two earlier toy drive events.
On December 19, over 1000 supporters from across Ontario attended Troy's Diner @ Best Western Plus – Milton Inn. Among the supporters were such dignitaries as Lisa Raitt – MP & Federal Minister of Labour, Tim Hudak – MPP & Leader of Conservative Party, Ted Chaudleigh – MPP Halton and Gord Krantz – Milton Mayor.
Milton restaurateur Troy Newton donated all proceeds from the luncheon to the Toy Drive, as customers opened their hearts and pockets for the less fortunate over the 3 hour fundraiser, which was broad cast live on City TV's Breakfast Television.
Tiger Jeet Singh and his son Tiger Ali Singh signed hundreds of autographs and offered the crowd numerous speeches of encouragement, as did hockey legend Johnny Bower and Canada's most famous hockey dad Walter Gretzky.
Music and entertainment was provided by numerous bands including the Salvation Army Brass Quartet, Milton Choristers, Doyle's Martial Arts Club, Flying Dragons Martial Arts, Finnegan Irish Dancers, Kelly Macintyre, in addition a special performance by recording artist Prita Chhabra.
On December 13, Tiger Jeet Singh and Tiger Ali Singh visited McMaster Children's Hospital to meet, hand out toys and provide autographs for numerous children and parents. Accompanying the Tigers were their dear friends Troy Newton, Crystal Newton along with their team.
"If it was not for the Tigers, my sister/business partner Crystal and team this would not be possible," says Troy Newton.
"We're very grateful to all the sponsors, and in particular Unilever, Scotiabank, Best Buy, Rob Hans of Century 21, Harpreet Hans of Gunding Hans LLP, Royal Park Homes, GFS and Best Western Plus – Milton Inn, for their support," says Tiger Jeet Singh.
"I would like to thank our entire Milton community and surrounding municipalities for supporting this event. Events like this give us the opportunity to bring people of different cultures and religions together for the greater good of humanity and give back to noble charities," says Tiger Ali Singh.