Tigers Tee Off a Sold-Out Miracle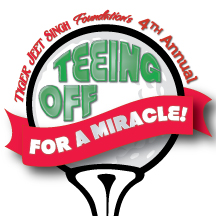 MILTON, ON, Canada. June 16, 2017 – The Tiger Jeet Singh Foundation's (TJSF) 4th annual 'TEEING OFF for a MIRACLE' golf tournament was a tremendous SOLD OUT affair raising $80,000 for charity!
Read More…
Thank You Sponsors!
Photo Gallery
"I am overcome with so much emotion right now and truly humbled by the outpour of support, which was capped off this year, by selling out the event two months in advance," says Tiger Jeet Singh Jr., President of TJSF. "It's become a wonderful reunion of great friends and an opportunity to make new ones. The success of this event is a direct result of hard work and support by my wonderful staff, family, friends, volunteers, players and sponsors."
The event is in support of TJSF's 9th annual 'Miracle on Main Street' toy drive charity event scheduled to take place on December 11, 2017. Proceeds from the golf tournament will go towards the purchase of toys, food and life essentials for families experiencing hardship via the Salvation Army and Halton Women's Place; children suffering from illness at SickKids and McMaster Children's Hospital; and supporting local school initiatives such as mental health, breakfast programs, literacy and inclusive classrooms via the Halton Learning Foundation.
The Tigers were delighted in welcoming dignitaries and special guests Milton MP Lisa Raitt, Halton Chief and Deputy Chief of Police Stephen Tanner and Nishan Duraiappah, Maple Leaf Alumni Ric Natress and Peter Ing. In their absence, letter of greetings were sent from Milton Mayor Gord Krantz and Ontario Conservative Leader Patrick Brown.
"I would like to thank our presenting sponsors Deloitte and Team Tiger Real Estate, along with our caddy sponsors CONXCORP, Scotiabank, Gunding & Hans LLP and Golf Town," says Tiger Jeet Singh, Chairman of TJSF. "We are very grateful for the support shown to us by Granite Ridge Golf Club and Albatross Catering for putting together a spectacular venue. We keep coming back each year, because they make all of our guests feel at home."
IMAX again this year presented TJSF a private VIP screening to any movie for 180 guests. Last year Tiger Jr. invited young patients and parents from MacKids, children with their mothers from Halton Women's Place and several students from local schools, which showed great initiative to support charity.
Please visit www.tjsf.ca for more information and pictures from the big day.
For more information contact:
Victoria Pearson
Executive Assistant
Tiger Jeet Singh Foundation
E: Victoria.Pearson@tjsf.ca