Tiger Jeet Singh Bio
---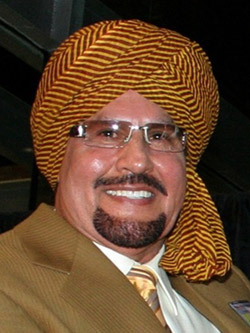 Birthplace: Sujapur, Ludhiana, Punjab, India.
Height: 6'2" Weight: 250 lbs.
A world famous wrestling ambassador, humanitarian and philanthropist, Tiger Jeet Singh appreciates and recognizes the fact that he has been tremendously blessed and for this reason alone, he was able to surpass the childhood dream he once set for himself as a small boy growing up in Ludhiana, Punjab, India.
Tiger has now set another goal for himself and that is to bring joy and opportunity to the youth around the world. Along with his son Tiger Jr, Tiger has been promoting his anti-drug message to thousands of parents and children throughout the world and about the importance of staying in school, staying away from drugs and staying tiger-fit.
---
International Achievements
July 1, 2013 – When you mix a beautiful day, a national holiday, and pro wrestling with a great mix of superstars, the result is a huge turnout at TigerFest. A record shattering number of over 100,000 spectators attended this year's Canada Day festivities throughout the 10-hour day event put on by the City of Brampton, which was headlined by TigerFest and the Canadian rock band Hedley.
The crowd was massive and as far as the eye could see for TigerFest. The official count was in the neighbourhood of over 30,000 people watched the wrestling action! The City took all the required safety precautions in closing down major road arteries leading into the park area, leaving people to walk several miles to the venue.
But the appeal of both Tiger Jeet Singh and his son Tiger Ali Singh far surpassed the boundaries of Brampton with dignitaries and fans coming in from different parts of the world and ten television networks recording the wrestling action, to be broadcast in over 100 countries. TigerFest was in support of the William Osler Health System Foundation which oversees the thre local hospitals in Brampton.
Press Release
April 20, 2013
The Halton Multicultural Council held their 3rd Annual Fundraising Gala and Community Leadership Award Ceremony and this year the Council honoured Tiger Jeet Singh with presenting him the 2013 Community Leadership Award for his humanitarian work and philanthropy.
Press Release
December 17 & 19, 2012
Wrestling legend Tiger Jeet Singh, his son wrestling superstar Tiger Ali Singh and their dear friend Troy Newton spearheaded the Tiger Jeet Singh Foundation's efforts in raising awareness and a record setting $250,000 in donations made up from food, toys, life essential products, and corporate sponsorships as a result of Miracle on Main Street in Milton and Hamilton; more than doubling the amount raised from last year's event.
Press Release
July 18 2012
Tiger Jeet Singh, Tiger Ali Singh and George Chuvalo to be inducted into Walk of Fame
"It's important that this event appeals to everyone," said Albion Islington Square BIA Chairman Shamsher Singh. "In Toronto, we say that diversity is our strength. There is so much happening at this year's festival with the highlight marking the induction of legendary professional wrestlers, humanitarians and philanthropists Tiger Jeet Singh, his son Tiger Ali Singh and Canadian boxing legend George Chuvalo to the Albion Islington Square Walk of Fame at 3:00 pm with an autograph session shortly thereafter with the Tigers."
Press Release
July 11 2012
Microsoft Worldwide Partner Conference welcomes wrestling legend, humanitarian and philanthropist Tiger Jeet Singh and his son, wrestling superstar Tiger Ali Singh to be motivational speakers on the success of their partnership at this year's convention.
"I am absolutely humbled to have been invited by Microsoft to be one of the guest speakers alongside such motivational legends as Deepak Chopra," said Tiger Ali Singh, "I will be honored in sharing what a great role model and partner my Father has been towards the success I've experienced both inside and outside of the wrestling ring."
Press Release
July 1 2012
Charity the name of the game at TigerFest
A record shattering number of over 100,000 spectators attended this year's Canada Day festivities put on by the City of Brampton, which was headlined by TigerFest, rock bands Marianas Trench and April Wine at Brampton's all-day Canada Day party, held on the grounds at the Powerade Centre entertainment complex.
Press Release
June 2012
Tiger Jeet Singh was named one of Canada's Top 25 Immigrants by Canadian Immigrant Magazine and RBC. The fourth annual awards program honours Canada's top immigrants through online voting in which tens of thousands of Canadians participate.
May 2012
Tiger Jeet Singh along with his son, Tiger Jeet Singh Jr. were awarded the Queen's Diamond Jubilee Medal by Halton MPP Lisa Raitt for their philanthropy and charitable services.
December 19, 2011
Every year at about this time, a jolly man delivers toys to children all over the world. He's known by many names: Santa Claus, Saint Nicholas, Pere Noel, and, in Milton, Ontario, anyway, Tiger Jeet Singh. The wrestling legend teamed up once again with his son wrestling superstar Tiger Ali Singh and their dear friend Troy Newton, as the Tiger Jeet Singh Foundation raised a staggering $100,000 during their annual Troy's Toy Drive. Donations collected will go towards supporting children and families of all faiths and religions via the Salvation Army, Hospital for Sick Children, McMaster Children's Hospital and Halton's Women Place.
September 24, 2011
Over 20,000 fans rumble into Brampton for TigerFest. While the day saw a number of entertainment events, the real highlight was – given Tiger Jeet Singh's background – wrestling action. The wrestling was greeted with tremendous enthusiasm by the huge crowds and was brought to a climax during the main event when Tiger Ali Singh and his tag partner Shawn Daivari had their hands raised in victory. Both Brampton Mayor Susan Fennell and Tiger Jeet Singh presented the two former WWE Superstars with a championship trophy. $45,000 was raised in support the Tiger Jeet Singh Foundation's initiatives and throughout the campaign awareness was raised for the Japan Relief, Peel Memorial Centre for Integrated Health & Wellness and local food banks.
June 4, 2011
Throughout his legendary career, Tiger Jeet Singh and his son former WWE Superstar Tiger Ali Singh faced off against a number of hard opponents. However at this year's TigerFest in Milton, they faced one of their toughest yet in the form of Mother Nature. With the Town of Milton shutting down their annual Street Festival due to high winds and heavy rainfall, the Tigers along with their close friend Troy Newton carried on with their plans and were able to come up with another victory, ensuring that TigerFest 2011 was a major success in raising over $50,000 for local charities.
A formal cheque presentation of $15,000 was made on Wednesday, June 29, 2011 to Milton District High School towards the purchase of fitness equipment. Tiger Jr. is a former student of Milton District H.S. In addition, over $10,000 has been donated already towards the purchase of food for the Salvation Army and other local charities.
December 20, 2010
Wrestling Legend Tiger Jeet Singh, his son former WWE Super Star Tiger Ali Singh and their dear friend Troy Newton spearheaded the Tiger Jeet Singh Foundation's effort in raising over $60,000 worth of food and toys as part of the second annual Troy's Toy Drive doubling the $30,000 raised at the event held the previous year.
October 22, 2010
Shouting "TJS, TJS, TJS", students at Tiger Jeet Singh Public School officially celebrated the grand opening of their new school. Celebrations began on the school playground with two special events. Roger Hadfield, father of NASA Astronaut Colonel Chris Hadfield, flew his bi-plane over the school, followed by a presentation by a Bhangra dance group. Students, staff and guests proceeded to the school's gymnasium for the formal opening ceremonies, which were hosted by students and included a performance by the school choir. Among the 1,500+ attendees included members from three levels of Canadian government and a large media scrum made up of all major television networks, including as far as Japan.
June 5, 2010
Marked an important day in history as the inaugural Tigers WrestleFest hit the streets of Milton. A staggering number of over 50,000 people attended with the addition of TigerFest. A festival within a festival to showcase local amateur athletes while promoting health and fitness. All proceeds from the event went towards supporting the Milton District Hospital Foundation.
March 6, 2010
The Halton District School Board unanimously votes to name a new elementary school in Milton, Canada as Tiger Jeet Singh Public School. This is the first time in the world where a public school is named after a Sikh Punjabi Canadian.
December 22, 2009
Through their leadership, both Tiger and his son Tiger Jr. assist Troy's Diner located in Milton, Ontario, Canada with raising well over $35,000 in donations and toys for the local Salvation Army and the Sick Children's Hospital.
October 29, 2009
Both Tiger Jeet Singh and his son Tiger Ali Singh have their names Unveiled at the Official Grand Opening of Milton's Walk of Fame in Canada. Each Walk of Fame inductee is recognized in the glass corridor linking Town Hall West (built in 1855 and renovated in 1985) with Town Hall East (opened in 2009).
It is truly an historical event because it is the first time that a father and son have been recognized together in any similar fashion throughout the world.
July 1, 2007
The City of Milton recognized and honoured both Tiger Jeet Singh and his son Tiger Ali Singh by inducting them into Milton's Walk of Fame. The Walk of Fame honours those individuals which have achieved success and notoriety on both the national and international levels.
April 16, 2005
A one-hour documentary film on the life of Tiger Jeet Singh entitled 'Tiger' premiered with rave reviews at Toronto's Reel World Film Festival. The film was awarded the 'Best' Canadian Documentary Film by the National Film Board of Canada.
April 13, 2003
Canada's Deputy Minister and Heritage Minister Sheila Copps, honoured Tiger by awarding him with Canada's Lifetime Achievement Award.
July 23, 2002
During a New Japan Pro-Wrestling event in front of 60,000 spectators within the Tokyo Dome, Tiger was presented the award as being recognized the most popular foreign wrestler in Japanese wrestling history. Tiger beat out fellow wrestling superstar's Hulk Hogan and Andre the Giant to win the coveted honour.
2000
Tiger was appointed as an official NGO Delegate for the United Nations.
January 1997
The Chairman of World Wrestling Entertainment (WWE), Vince McMahon appointed Tiger as the company's International Ambassador.
1994
The Mayor of Milton, Gord Krantz appointed Tiger as the Town's Goodwill Ambassador.
1992
The Mayor of Brampton, Peter Robertson appointed Tiger as the City's first official Business Ambassador.
1977
Pakistan's President, General Zia presented Tiger with the 'Key' to the country for restoring the pride and honour back to the nation of Pakistan after defeating Japanese wrestling legend Antonio Inoki in Karachi, Pakistan in front of a sold out cricket stadium of 60,000 spectators.
1976
The late Emperor of Japan presented Tiger with an island off the shores of the country of Palau as a gift after defeating Japanese wrestling legend Antonio Inoki for the World Heavyweight Championship in Tokyo, Japan.
---
Wrestling Titles Held
All Japan Pro-Wrestling (AJPW) – Asian Heavyweight Champion
All Japan Pro-Wrestling (AJPW) – World Tag Team Champion
International Wrestling Alliance (IWA) – World Tag Team Champion
International Wrestling Alliance (IWA) – International Heavyweight Wrestling Champion
National Wrestling Alliance (NWA) – Canadian Tag Team Champion
National Wrestling Alliance (NWA) – International Tag Team Champion (twice)
National Wrestling Alliance (NWA) – North American Tag Team Champion
National Wrestling Alliance (NWA) – United States Heavyweight Champion
National Wrestling Federation (NWF) – World Heavyweight Champion
New Japan Pro Wrestling (NJPW) – World Heavyweight Champion
New Japan Pro Wrestling (NJPW) – North American Heavyweight Champion
New Japan Pro Wrestling (NJPW) – North American Tag Team Champion
Universal Wrestling Association (UWA) – World Heavyweight Champion (twice)
Frontier Martial Arts Wrestling (FMW) – World Heavyweight Champion